With our help, your math homework will be easy
Are you stuck with a problem with your math homework? We will help you solve it.
Get a price quote from our math experts
See how students estimate our math homework
EXCELLENT (9+)
VERY GOOD (8-9)
GOOD (7-8)
SATISFACTORY (6-7)
NEED TO IMPROVE (UP TO 6)
Our math assignment samples
You're not alone in your struggle to complete mathematics homework. See some examples of our academic experts' work and order a personalized math sample that will help you with your studies.
You will not be surprised if we tell you that you are not the only student in the world who is struggling when doing math assignments. Math is one of the most challenging disciplines to study for the majority of people. Some even say that either you get it or you do not. You should just accept the latter statement as a fact and stop worrying about your achievements.
However, it is not always true. Some people are not born with outstanding skills in math, arts, or engineering. They simply work hard and spend a lot of time improving the skills they already have. Therefore, we do not encourage you to give up if you can't cope with a tricky math problem. Instead, you can try to get online help from someone with more experience in math. Here are some of the possible online resources that you can use to get better at solving all kinds of complex algebraic, geometry, and calculus problems.
Stemhave
https://stemhave.com/math-homework.html
It is an online service where you can hire an experienced mathematician to help you with your homework assignments. The procedure is rather trivial - you fill out an order form where you describe the type of your assignment and provide managers with all the required information. Then, they look for the most suitable assistant for you taking the academic level and the kind of your assignment into consideration. It is a fast way to get the answers to your math questions. You will not have to wait for a long time for your assistant to start working on your inquiry.
Even though it is a fee-based resource, you can benefit from using it in many ways. You are probably aware of the fact that math is often all about finding the optimal algorithm to find the right solution. When your assistant helps you find it, you can then apply it to other similar tasks. Also, the level of stress that you experience while trying to solve those challenging problems will most probably decrease. The company states that they hire only college graduates who major in different STEM disciplines and demonstrate outstanding skills. It is a great way to get assistance with a specific sophisticated math problem at any time.
Mathhelp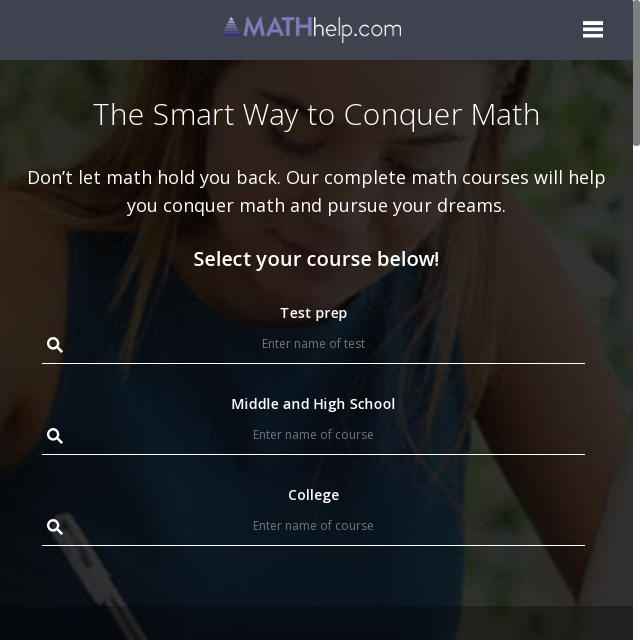 https://www.mathhelp.com/
What if it is not a specific math problem that you need to get help with? What if you lack some general understanding of some math topics? Then, you might be interested in using this online platform. Its founder, a high-school math teacher Mike Maggart, created a website where you can get additional lessons on different topics, prepare for a math exam, and practice solving math problems. You can choose the academic level you are interested in and start the process of improvement. You can also find the information about Mr. Maggart and other teachers on the website to learn more about their background and qualification.
No wonder the format of online tutoring is becoming more and more popular these days. Due to the recent pandemic events, many teachers had no other choice but to start helping their clients online. Mathhelp.com has a long history and, therefore, can boast of having vast experience in teaching online lessons. If you've never tried an online format before, this resource might be a good place to start.
Mathway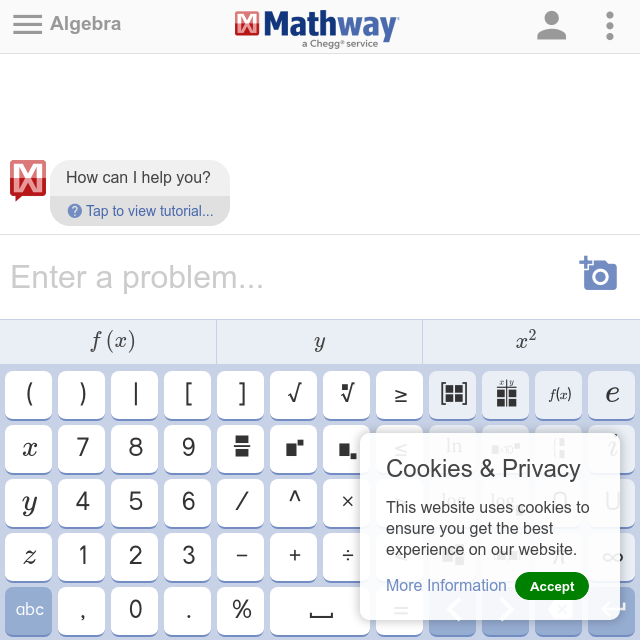 https://www.mathway.com/Algebra
Wouldn't it be great just to enter a math problem that does not let you have a sound sleep in special software that can give you an instant solution to it? Well, guess what, it already exists. Mathway.com is hugely popular among students from around the world because it might be the fastest way to get the right solution that one can find. The software algorithm has been translated into many languages so it is easy to use. What you get is a step-by-step process of getting the right solution to any problem. Sometimes, these explanations are not enough to get your head around the problem. However, you will complete your homework assignments on time.
It is possible to register and login every time you need the right answer. However, pay close attention to confidentiality issues. There has been news about data leaks in some countries and then the company denied this information. Anyway, keep that in mind when looking for the most convenient tool to use. You can still use some of the functions without registration. Otherwise, the platform is very helpful in that it is available for math problems of any academic level - algebra, trigonometry, calculus, statistics, etc.
Khanacademy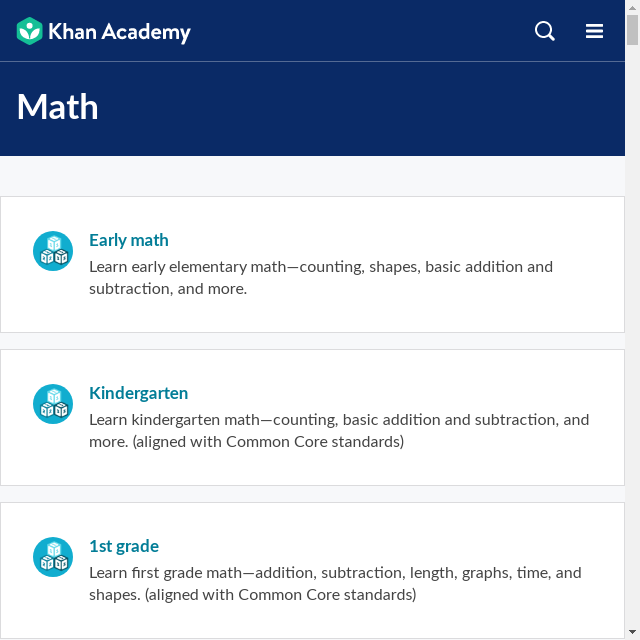 https://www.khanacademy.org/math
Even if you are not a student, you must be familiar with this platform. Its mission is to offer high-quality education to people around the world. Here, you will find numerous exercises to practice and improve math skills. You can study at your own pace as there are no scheduled classes. Study when you have time and desire.
The lessons consist of interactive pieces and practice of solving all kinds of problems. You will see that the math section begins with early math (addition and subtraction, counting, etc.) So, if you have children who could benefit from these lessons, you know what to do. As to the high school and college students, you can go to the corresponding sections of algebra, calculus, statistics, etc. There are many lessons and math problems to go through here.
Webmath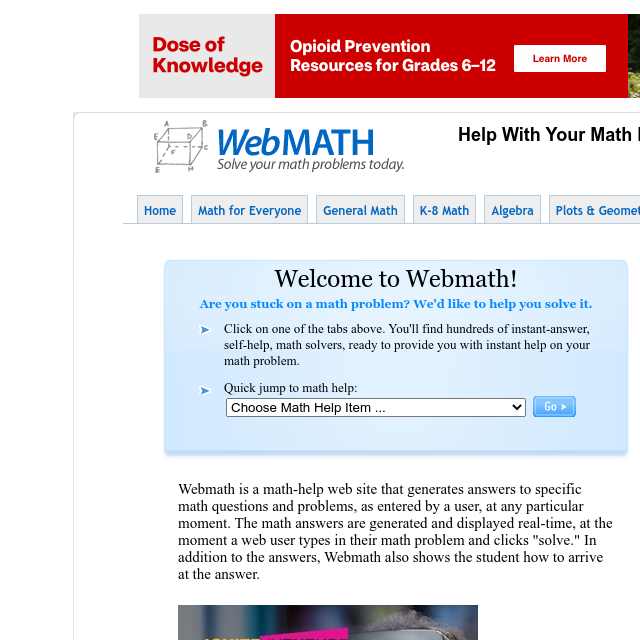 https://www.webmath.com/
It is another service that allows you to enter a math problem and get a solution to it. However, the algorithm here is more complicated. First, you need to choose a corresponding topic you want to get help with and fill out a form with the information about your math problem. Then, you can read some theoretical material on the topic and get the solution to the problem.
It might take you longer to find the necessary section and the type of problem you are struggling with right now. However, it is a convenient way of learning the algorithm of the steps you need to take to get the right solution. The sections to choose from are Math for Everyone, General Math, K-8 Math, Algebra, Plots and Geometry, Trigonometry and Calculus, Other. For instance, if you need help with finding a derivative of a function, go to Trigonometry and Calculus and then choose Derivatives.
Photomath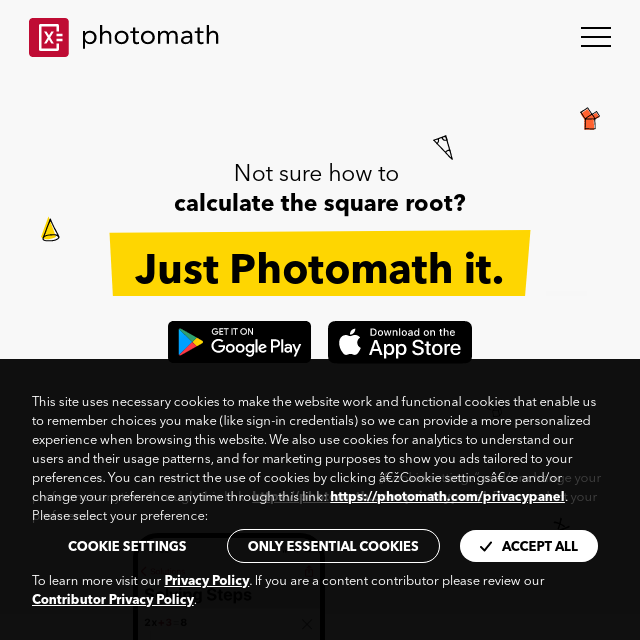 https://photomath.com/en/
Let's suppose you are trying to solve a math problem but nothing seems to work. You reread a corresponding chapter from your textbook but the situation does not become clearer. Just install the Photomath.com app and take a photo of that math problem. You will instantly get the answer with a step-by-step solution process.
Needless to say, once you've understood the algorithm, it becomes a lot easier to cope with the rest of the math problems from your homework assignments. The app also has a smart calculator in case you want to input the problems manually. It covers a wide range of math topics like Trigonometry, Statistics, Algebra, Word problems, etc. The app has a high user rating so you can try it out the next time you don't know what to do with a math problem.
Wolframalpha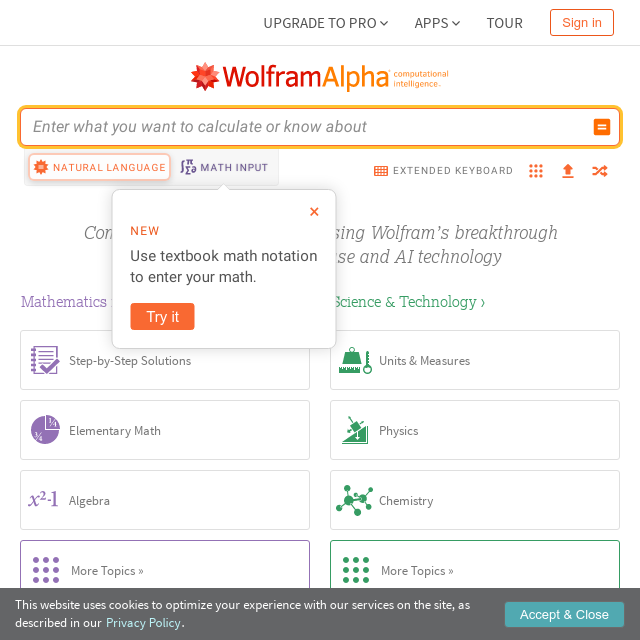 https://www.wolframalpha.com/
It is a happy place for anyone passionate about science in general and in math in particular. If you are interested in finding the solution to all of your math problems, you can input them manually and this computational intelligence tool will do all the hard work for you. However, this is the least it can do for you. Just name a math topic and you will find a lot of information on it here. It is a great resource to use when you need to get a quick solution and also when you have some time to dedicate to the beauty of mathematics. You can explore the examples of multiple math problems and the step-by-step process of solving them. It is a space for practice and for spending less time on your assignments.
Get more math homework answers
Can Google help me with my math homework?
Yes, Google can help you with your math homework.